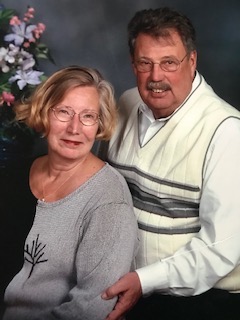 The Catholic Community Foundation of Mid-Michigan endowment for Barbara Shaffran began with a stroke of luck.
When her son Paul won $5,000 in the Nouvel Catholic Central Elementary Athletic Association Big Draw raffle years ago, her husband Charles suggested he donate the money to the Foundation in memory of his mother who died in 2012. And Charles matched it.
Since 2013, Charles has made monthly contributions to the Barbara Shaffran Endowment for Nouvel Elementary School (formerly St. Thomas Aquinas Elementary). The fund has grown to nearly $27,000 with annual disbursements starting in 2014.
"My wife was so involved in the church and St. Thomas Aquinas Elementary School when our three children attended there," Charles Shaffran said. "She was on the school board, participated in all kinds of school projects and fundraisers, and volunteered at the school library. The endowment is a way to help the school now and into the future. There always is a need."
Charles said he and his wife joined St. Thomas Aquinas Parish in Saginaw Township in 1969. Both came from good Catholic families and both attended Catholic schools. "We felt that it was important for our children to have a background in their faith and a good education. The endowment helps provide the same for other families," he said.
Phil Strauss, director of finance for Nouvel Catholic Schools, said the annual disbursement provides needed tuition assistance.
"The Barbara Shaffran Endowment Fund helps us fulfill our mission of offering a Catholic education to any family that needs help. We are grateful that we can count on the annual funds," he said.
Barbara's daughter Susan Moody said her mother had a servant heart. "Growing up as children we watched her give and volunteer wherever help was needed," she said. She remembered that her mother would bring loose change to help students pay for overdue books when she volunteered in the student library. A piece of artwork commissioned by Fr. Randy Kelly still hangs in the elementary school library in her honor.
Jill Friebe, Barbara's older daughter, echoed that her mother was always at the school. She was President of Home and School, a Brownie and Girl Scout leader, homeroom mom and helped deliver hot lunches. She also was the first school nurse. "If the school called and said they needed help, my mom would go," Jill said.
The daughters agree that they continued their mother's legacy by sending their own children to Nouvel Catholic Elementary, volunteering on school boards and committees, and at St. Thomas Aquinas Church. "My mother instilled in us the spirit of volunteering our time, talent and treasure, " Jill said. "That is how we grew up and that is how we were taught."
Their mother shared her time between her children, the school and her career in nursing. She graduated from St. Mary's School of Nursing in Saginaw in 1964 and later served as the president of the St. Mary's School of Nursing Alumnae Association. She began her nursing career at Bay City Mercy Hospital and later at St. Joseph Hospital in Ann Arbor. She spent 30 years on the nursing staff of St. Francis Nursing Home in Saginaw Township, retiring as the director of nursing.
"She really liked working in geriatrics," Charles said. "So much so that she went back to work after she retired in 2004 and worked an additional year." Susan said that people still remember her work at St. Francis.
"She touched so many lives. To this day people will share with me the kindness and care she showed the patients and families at St. Francis."
Barbara and Charles also volunteered at St. Thomas Aquinas Church. Barbara was president of the Parish Council and she and her husband served several terms.  Charles also was a lecturer at Mass for 30 years and a regular volunteer at the fish fries.
Charles was in pharmaceutical sales for 30 years and retired in 2006. He worked as a chemist for Chrysler Corp. before that. He moved to Tawas after Barbara's death and divides his time between his residence there and another in Florida. Their son Paul and his wife Ursula live in Geneva, IL. There are four grandchildren.
Charles said the endowment is a fitting tribute to his wife's memory. "She was so involved in the school when our children went to St. Thomas Aquinas. It was her love." Susan added, "I am proud that my mother's legacy lives on through her endowment."
Written by Joan Ramm