Thanks to a grant from the Catholic Community Foundation of Mid-Michigan, sixth-grade students at Nouvel Catholic Central Elementary (NCCE) now have their own personal Bibles to read God's word in greater depth this summer and throughout their lives.
NCCE sixth-grade teacher, Janna Witten, who applied for the grant, says it is truly a blessing for the students to have the Bibles. With the new religion book the sixth-grade students are currently using, they are frequently asked to refer to the Bible. According to Janna, "The Christ Our Life book series, adopted by NCCE in the 2019/2020 school year, encourages a lot of Bible reading, which we do in class weekly."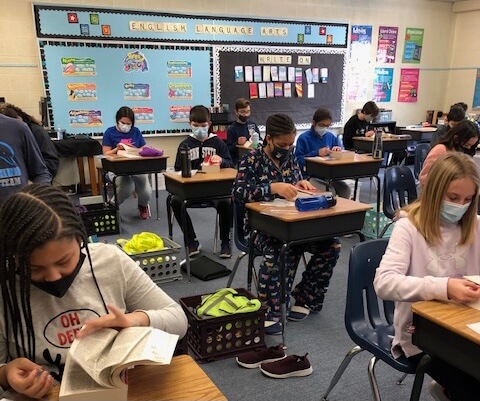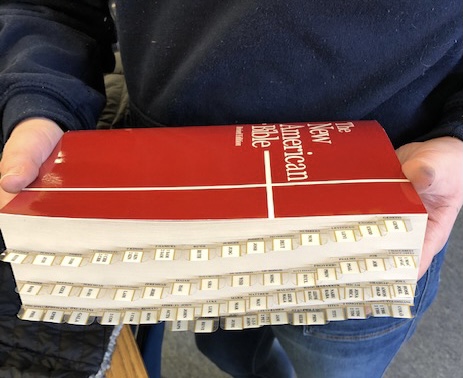 Along with the purchase of the new Bibles, Janna also ordered Bible index tabs to allow her students to mark the 73 books of the Bible. Students spent an entire religion class adhering the tabs, ordered from the Catholic Company, to the corresponding pages. The sixth-graders find it's now much easier to locate specific books/passages in the Bible.
They love the ease of finding things through the use of the index tabs, says Janna. In fact, the tabs help level the playing field, making the Bible more accessible for all my students.
Students describe the old classroom set of Bibles as having torn covers and brown pages; in contrast, the new Bibles are clean with nice covers and tabs.
After the Bibles arrived in January, Father Rick Bokinske, pastor at Saint Thomas Aquinas Church, visited each of the two sixth-grade classes to bless the students' Bibles. Janna says the students have a real sense of pride in their new Bibles. Some have even gone out and purchased Bible covers.
Providing a Bible for each NCCE sixth-grade student is part of a larger plan, as Janna believes sixth grade is where one gets a start into adult Bible reading. As students move into junior high, they are required to have their own Bibles. Now, students will enter seventh grade with Bibles tabbed and with valuable experience locating books/passages.
At the request of the seventh-grade teachers, Janna also purchased a couple extra Bibles, so any students new to NCCE in junior high could be given a Bible, a "Welcome to your spiritual journey" gift, says Janna.
Janna and her students are very appreciative of the new Bibles.
I see a great deal of enthusiasm for reading the Bible, says Janna. Two of my students told me they want to read the whole Bible, and one girl spends all her free time reading her Bible.
Kristin Smith, Executive Director of the Catholic Community Foundation of Mid-Michigan (CCFMM), believes it is very important to provide students with their own Bibles. According to Kristin,
The value of providing Bibles for Catholic students to own is beyond measure, for reading the Bible will shape the choices they make growing up.
Kristin was impressed that each of the 35 NCCE sixth-grade students wrote a personal thank-you letter to CCFMM and shared a favorite Bible verse. "Feelings of joy and hope filled my heart with each letter I read," said Kristin. Below are just a few of the reasons students are thankful for their own Bibles:
Emma: The Bibles give us stories about Jesus' life.
Sydney: The Bible helps me learn more about God and what Jesus did for me.
Owen: My Bible helps me lead a better and more spiritual life.
Gabi: Thank you so much for the amazing Bibles you gave us. It helps me keep my faith.
Kristin shares that the students' thank-you letters have inspired her to find a way for CCFMM to provide all Catholic school children in sixth grade with a Bible to own, and she is confident the Holy Spirit will lead her/the Foundation in finding a way to make this happen. In fact, Kristin envisions that a newly-formed CCFMM society, the Saint Joseph Giving Society (SJGS), may very well be a vehicle through which sixth-grade Bibles will be provided. To learn more about SJGS, please see our companion piece to this story, "Inspired by St. Joseph: Giving from the Heart."
The CCFMM is pleased to provide this grant, which made it possible for each NCCE sixth-grade student to take home a Bible at the end of the school year. As they read over the summer, Janna offered this advice:
Spend time reading the book of James, as it has so many good nuggets for living a good Christian Life.