St. Francis of Assisi said:
"I want to do something that will recall the memory of that Child who was born in Bethlehem, to see with bodily eyes the inconveniences of his infancy, how he lay in the manger, and how the ox and ass stood by."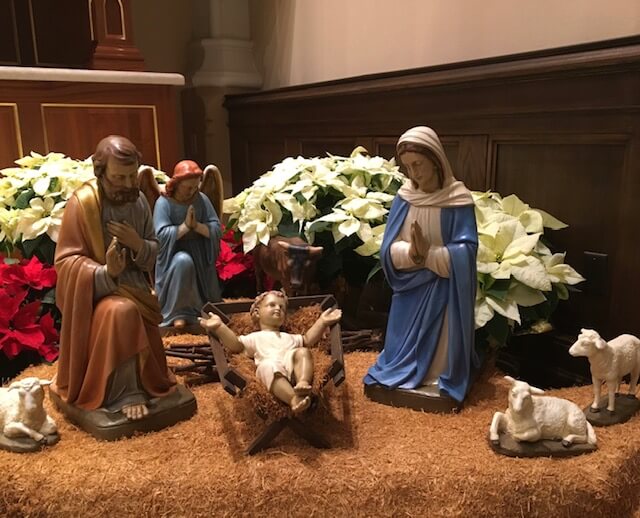 St. Mary's Cathedral, 2019
St. Francis is believed to have created the first living Nativity scene on Christmas Eve in 1223. St. Francis, who lived in simplicity and gave everything to the poor, wanted to impress upon the people of his time the humbleness of our Savior's birth.
Maybe you remember the Christmas Nativity scenes from your churches growing up? The photo above displays a few of the beautiful century-old nativity figures from Saginaw's St. Mary's Cathedral. Lisa Rigali, one of the owners of the Daprato Rigali Studios in Chicago, believes the Cathedral set to be Daprato figurines that date back to the mid 1920s. They were created in the studio in Chicago at Adams and LaSalle, now located on the north side of Chicago. They also did restoration work on Joseph, Mary, and two of the kings in 2018.
Displaying a Nativity scene at churches and in homes is an historic Catholic tradition that helps us meditate on the gift of Jesus' birth in a humble stable. This Advent season, the Catholic Community Foundation of Mid-Michigan (CCFMM) will feature some beloved church Nativities from around the Saginaw Diocese.
Should you be interested in donating to help maintain and restore Nativity figures from churches around the Saginaw Catholic Diocese, please contact CCFMM (989-797-6680) or your own church directly. The CCFMM is available to you and your family to assist you with your philanthropic endeavors that support Catholic ministries throughout the Diocese of Saginaw.  Also, if you have photos of your church's Nativity figures and information about them, please contact Mary Beth via email at MaryBeth.Looby@ccfmm.org