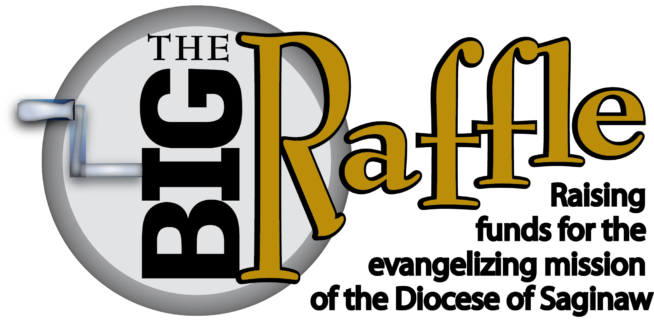 BIG RAFFLE 2020 Event
Coronavirus Update
To All 2020 BIG Raffle Participants:
The BIG Raffle is ON! We are excited to announce the BIG Raffle has been rescheduled for Monday, July 20th, 2020! To keep all participants safe only the BIG Raffle Committee will be attending the drawing event. The event will via livestream at noon on the Catholic Community Foundation of Mid-Michigan Facebook Page. A link to the page is provided below:
www.facebook.com/pg/CCFMidMich
We encourage you to continue the selling of your tickets via online ticket sales. The online ticket sales window will be reopened July 6th to July 13th. For online ticket sales, please make sure participants specify what parish/ school / organization their ticket should benefit.
Ticket stubs and payments are due by July 13th. The Diocesan offices are now open so you may drop off your tickets/checks at the front desk of the Diocese between 8 a.m. and 4 p.m. weekdays. Please do not take them to the Center for Ministry. If you are unable to drop off your tickets, we have Committee members who can meet you or we can come pick them up. If you need to coordinate a pickup, please contact me ASAP. Please do not mail your tickets or checks.
Please check out the CCFMM Website and Facebook Page: www.facebook.com/pg/CCFMidMich for updates.
We encourage you to contact us with any questions or concerns.
We also thank you for your patience and understanding as we push through this quarantine together. May God bless all of you and your families. Our prayers are with you all, stay safe.
Sincerely the Catholic Community Foundation and the BIG Raffle Committee
The BIG Raffle – Where Everyone Wins
Since 2011, parishes and schools of the Catholic Diocese of Saginaw have raised more than $450,000 through the Big Raffle.
The Foundation administers the St. John Neumann Catholic Education Endowment, which provides grant dollars to programs and initiatives in communities served by the Catholic Diocese of Saginaw. Since the Fund was created in 2012, the Foundation has distributed $186,000 for 62 grants benefiting communities in a variety of ways including vacation bible school and food pantry gardens.
In addition to the many programs supported, the BIG Raffle offers an annual opportunity to win major prizes.